We are a pioneer center in sportive and classical physiotherapy. We have a team of professionals experts specialized in all the pathologies, with the best formation and the latest curative trends.
An osteopath
Two sportive coachs
A sportive doctor
A homoeopath doctor
An expert in SPAS (Sciences of the physical activity and sport)
A nutritionist
A secretary
Physiotherapists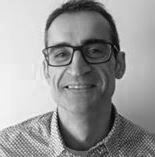 Ramon Vilà
DO Physiotherapist and Osteopath
Formation:
Degree in Physiotherapy of the Sport
Degree in Osteopathy
Degree in Muscular Chains
Degree of Electrotherapy.
PPE formation
Ultrasound formation
Working experience at:
Asepeyo Insurance Company, Universal Insurance Company, Hospital of Olot, General manager at Ramon Vilà Physiotherapy and Osteopathy Center, Physiotherapist at CAP Güell Girona (Primary Health Clinics), Physiotherapy manager of the first team of U. Esportiva Olot football team, ex-manager at FISIOS Centre.